World Ice Skating Day (WISD) is a worldwide extravaganza dedicated to the joy and excitement of ice skating.
Your local rink will plan a WISD event with something for everyone. The WISD event from 2022 witnessed free ice skating coaching sessions for first-timers, along with skill development and injury prevention sessions for intermediate skaters. There was also delicious food and refreshing drinks, along with an amazing skating exhibition showcasing the finest regional talent. And this year, who knows what more? The possibilities are endless.
So come on. Skate solo or roll with your family and friends. Our ice skating fun and games are the coolest celebration in town and the price? Absolutely zero!
President's note

After the resounding success of last year's inaugural World Ice Skating Day, we are thrilled to extend an invitation for all of us to gather once again on December 3, 2023. This day is dedicated to rejoicing the sheer delight of ice skating. Join the global festivities at a rink near you and share in the passion and excitement of being on the ice. Let's collaboratively elevate this edition, crafting an experience that surpasses all expectations. Remember, together anything is possible.
Jae Youl Kim
President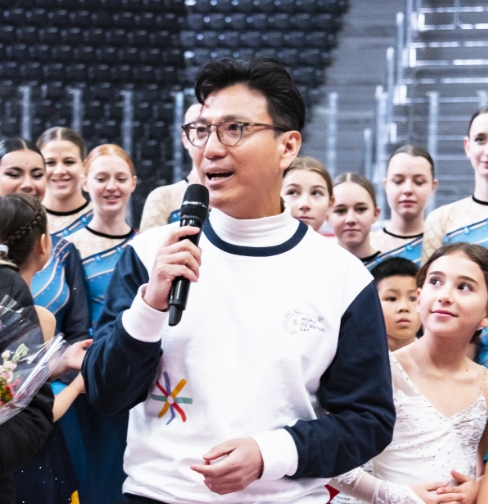 The values we glide with

Convivial
Letting the excitement and joy flow freely in the ice rinks.

Inclusivity and Diversity
Creating a community that is supportive and welcoming to all.

Fair
Ensuring a level playing field of learning for everyone, everywhere.

Accessibility
Making WISD accessible to all regardless of social, cultural or physical differences.

Spirit of Sport
Embracing the sport with boundless joy, where the focus is on fun and not trophies.
Uniting the ice-skating
community worldwide!

ISU aims to bring sports back into the lives of kids and grown-ups in a world of screens and virtual reality.
As the oldest governing international winter sports federation, recognized by the IOC, the International Skating Union has been rocking the ice rinks since way back in 1892.
With members spanning 78 countries across 5 continents, they've been the true champions of spreading the ice-skating joy in all its forms - long and short track, speed skating, single and pair skating, and synchronized skating - through WISD.
They also support potential event organizers to host their own epic World Ice Skating Day in their countries.